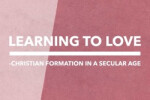 LEARNING TO LOVE | SESSION TWO
SO TELL ME WHAT YOU WANT | WHAT YOU REALLY, REALLY WANT…
Jesus made the above request long before the Spice Girls came around. We see this request take shape in the form of Jesus' question to two would-be disciples in John 1:38, which could essentially be translated: "What do you want?" This question, according to Christian philosopher James K.A. Smith, is the fundamental question of discipleship. He writes, "This is the most incisive, piercing question Jesus can ask of us precisely because we are what we want. Our wants and longings and desires are at the core of our identity, the wellspring from which our actions and behavior flow."[1]We are defined by our loves.
While this idea may sound somewhat romantic, in reality it is quite alarming. Why? Because as Smith points out, "buried in this insight is an uncomfortable realization: you might not love what you think."[2]
HOW'S THE WATER? | LEARNING TO EXEGETE OUR CULTURE
In 2005, David Foster Wallace was invited to deliver the commencement address at Kenyon College. He began his speech with a parable that went like this:
"There are these two young fish swimming along and they happen to meet an older fish swimming the other way, who nods at them and says, 'Morning, boys. How's the water?' And the two young fish swim on for a bit, and then eventually one of them looks over at the other and goes, 'What the [heck] is water?'"[3]
The point of Wallace's fish story is to demonstrate that often the most ubiquitous realities are the hardest to see and talk about.
This can be said about our loves, which are often formed and operated subconsciously. Timothy Wilson, a psychologist at the University of Virginia, wrote a book called Strangers to Ourselvesin which he claims that only about 5 percent of what we do in a given day is the result of conscious and deliberate choices. He writes:
"The mind operates most efficiently by relegating a good deal of high-level, sophisticated thinking to the unconscious, just as a modern jumbo jetliner is able to fly on automatic pilot with little or no input from the human, 'conscious' pilot. The adaptive unconscious does an excellent job of sizing up the world, warning people of danger, setting goals, and initiating action in a sophisticated and efficient manner."[4]
As a result, it can be hard for us to know what is really driving us. The question then becomes: how are our loves shaped if not by intentional choices? James Smith explains, "Our loves acquire direction and orientation because we are immersed over time in practices and rituals—what we have called 'liturgies'—that affectively and viscerally train our desires."[5]According to author Tish Harrison Wilson, these "habits and practices shape our loves, our desires, and ultimately who we are and what we worship."[6]
Therefore, it is vitally important for us to stop and evaluate the love-shaping "liturgies" that constantly influence us, and may be moving us to love rival gods. If the church is going to live up to its calling, to be a people "marked by the love of the triune God in each area of life,"[7]we need to learn to read our practices. To do this is to follow the example of the David, who prays in Psalm 139:23-24: "23 Search me, O God, and know my heart! Try me and know my thoughts! 24 And see if there be any grievous way in me, and lead me in the way everlasting!"
But it is not just our individual habits and practices that shape us. We are also engaged in cultural "liturgies" that have formative effects. As a result, we must also
"learn to exegete the rituals we're immersed in,"[8]and if necessary, as Flannery O'Connor once told a young friend, we have to "push as hard as the age that pushes against [us]."[9]
THIS IS WATER | RECOGNIZING RIVAL LITURGIES
The first step is to identify the "water" in which we are immersed. We need to become cultural exegetes who can identify the various ways in which we are being shaped. Because our worldviews[10]are upheld in everyday rituals and practices. James Smith looks at the example of consumerism, asking, "How do we learn to be consumerists? Not because someone comes along and offers an argument for why stuff will make me happy. I don't think my way into consumerism. Rather, I'm covertly conscripted into a way of life because I have been formed by cultural practices that are nothing less than secular liturgies."[11]Our loves are habituated by rituals, that we may not even recognize as liturgies. And, "These tangible, visceral, repeated practices carry a story about human flourishing that we learn in unconscious ways."[12]
Therefore, it is helpful for us to view various cultural institutions in light of what they truly are: religious sites. For example, one of the most regularly visited place of worship in any given metropolitan area isn't necessarily a church or synagogue, but a mall. It is true no one at the mall is confronted by a statement of faith, listing the ten things that the mall believes. The mall doesn't necessarily "believe" anything, and it is not interest in engaging your mind. But that doesn't make the mall a neutral space. Instead, the mall is interested in your heart, and it reaches you less through messages and more through rituals. As Smith writes: "The mall doesn't care what you think, but it is very much interested in what you love. Victoria's secret is that she's actually after your heart."[13]The religiosity of the mall has been written about extensively by religious studies professor, Ira Zepp. In his book The New Religious Image of Urban America: The Shopping Mall as Ceremonial Center, he writes:
"Some of us are interested in religious studies because we are interested in people. People do religious things; they symbolize and ritualize their lives and desire to be in a community. What piqued my interest in shopping malls initially was their concrete expressions of all three of these religious impulses. Quadrilateral architecture, calendrical rituals, replications of natural settings, and attempts to be people, places, and objects of pilgrimage, all illustrate homo religiosus. The shopping mall as a ceremonial center, the shopping mall as 'more than' a marketplace, is one way contemporary people are meeting their needs for renewal and reconnection, essential ingredients of religious and human life."[14]
The mall, however, is just one example of many cultural institutions that engage our hearts and our imaginations through practice and ritual. We are shaped by our surroundings and our habits, by the water in which we are swimming. So then, it is worth examining: what is shaping you? What habits are the most formative in your life? What rival deities are you being drawn to through your participation in various cultural institutions?
[1]James K.A. Smith, You Are What You Love(Grand Rapid, MI: Baker Publishing Group, 2016) 2.
[2]Ibid, 27.
[3]David Foster Wallace, This Is Water(New York, NY: Little, Brown, 2009), 3-4.
[4]Timothy D. Wilson, Strangers to Ourselves: Discovering the Adaptive Unconscious(Cambridge, MA: Belknap, 2004), 6-7.
[5]Smith, 32.
[6]Tish Harrison Warren, Liturgy of the Ordinary: Sacred Practices in Everyday Life(Downers Grove, IL: InterVarsity Press, 2019), 30.
[7]Ibid, 29.
[8]Smith, 40.
[9]Flannery O'Connor, The Habit of Being: Letters of Flannery O'Connor, ed. Sally Fitzgerald (New York: Farrar, Straus and Giroux, 1979), 229.
[10]Some philosophers (most notably the Canadian philosopher Charles Taylor) prefer the term "social imaginary" over worldview as a way of recognizing that our approach to the world is more ordered by our imaginations than our intellects. According to Taylor, a social imaginary is "much broader and deeper than the intellectual schemes people may entertain when they think about social reality in a disengaged mode" (Taylor, Modern Social Imaginaries (Durham, NC: Duke University Press, 2004), 23.). The social imaginary is "the way ordinary people 'imagine' their social surroundings," he points out. This is "not expressed in theoretical terms, but is carried in images, stories, and legends" (ibid.)
[11]Smith, 45.
[12]Ibid.
[13]Ibid, 41.
[14]Ira G. Zepp, The New Religious Image of Urban America: The Shopping Mall as Ceremonial Center (Boulder, CO: University Press of Colorado, 1997), 150. Quoted by Smith, 41.