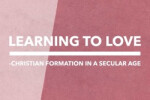 CHRISTIAN FORMATION?
It is good and right for Christians to talk about, remember, and celebrate our salvation. We have been saved by grace through faith. God has reached out to us in love, he has brought us in and made us his own. This is the good news of the gospel, and it is worthy of our attention!
While we may be used to talking about the reality and the means of our salvation, it seems that we are less inclined to talk about the telosor end of our salvation. Have you ever considered why God saved you? Kevin DeYoung in his book The Hole in Our Holinessexplains that there is more than one right answer to that question. According to the Bible, God saved us because of his love (John 3:16) and to bring glory to his own name (Ephesians 1:6, 12, and 14). "But," he says, "there is another answer—just as good, just as biblical, just as important. God saved you so that you might be holy."[1]We see this truth taught in the following passages:
Ephesians 1:3–4:"3Blessed be the God and Father of our Lord Jesus Christ, who has blessed us in Christ with every spiritual blessing in the heavenly places,4even as he chose us in him before the foundation of the world, that we should be holy and blameless before him."
2 Timothy 1:8–9: "8 Therefore do not be ashamed of the testimony about our Lord, nor of me his prisoner, but share in suffering for the gospel by the power of God,9 who saved us and called us to a holy calling, not because of our works but because of his own purpose and grace, which he gave us in Christ Jesus before the ages began,"
1 Thessalonians 4:7: "For God has not called us for impurity, but in holiness."
Ephesians 2:10: "For we are his workmanship, created in Christ Jesus for good works, which God prepared beforehand, that we should walk in them."
Holiness is a central theme in Scripture. The word 'holy' or one of its derivatives (like holiness, sanctify, and sanctification) occur more than 700 times in the Bible. "You can't make sense of the Bible without understanding that God is holy and that this holy God is intent on making a holy people to live with him forever in a holy heaven."[2]John Calvin writes: "The goal of God's work in us is to bring our lives into harmony and agreement with His own righteousness, and so to manifest to ourselves and others our identity as His adopted children."[3]
God has saved us by grace through faith, and he has done this completely apart from anything that we have done or could do. As Paul writes in Ephesians 2:8-9: "8For by grace you have been saved through faith. And this is not your own doing; it is the gift of God, 9not a result of works, so that no one may boast." He calls us just as we are, but he is intent on transforming us. This reality is beautifully expressed in Romans 8:29 where we read: "For those whom he foreknew he also predestined to be conformed to the image of his Son..." This is what we mean when we talk about Christian formation; it is God carrying out the end of our salvation, making us more and more like Jesus.
So how exactly does this work take place? How do we become the people that God wants us to be? How are we formed into the image of Jesus?[4]
BEYOND THINKING THINGISM
There is a scene in the beginning of the Gospel of John in which John the Baptist is standing with two of his disciples and Jesus passes by. Upon seeing Jesus, John bursts out: "Behold, the Lamb of God" (John 1:36)! When John's two disciple heard this, they quickly change their allegiance and begin following Jesus. But before they get too far, Jesus turns to them and asks this pointed question: "What are you seeking" (John 1:38)? The word translated seeking is the Greek word ζητέωwhich also means desire. Jesus essentially asks these two would-be disciples: "What do you want?" According to Christian philosopher James K.A. Smith, "It's the question that is buried under almost every other question Jesus asks each of us. 'Will you come and follow me?' is another version of 'What do you want?,' as is the fundamental question Jesus asks of his errant disciple, Peter: 'Do you love me?' (John 21:16 NRSV)."[5]
When Jesus encounters other disciples, such as Matthew or John, his question is not "What do you know?" It is not even "What do you believe?" Instead, he asks a version of "What do you want?" Again, Smith writes: "This is the most incisive, piercing question Jesus can ask of us precisely because we are what we want. Our wants and longings and desires are at the core of our identity, the wellspring from which our actions and behavior flow. Our wants reverberate from our heart, the epicenter of the human person. Thus Scripture counsels, 'Above all else, guard your heart, for everything you do flows from it' (Prov. 4:23)… Jesus is a teacher who doesn't just inform our intellect but forms our very loves."[6]
In many ways, a lot of our discussion of discipleship has been overly focused on the intellect. There is an assumption that the most important aspect of our personhood is our knowledge. "In ways that are more 'modern' than biblical, we have been taught to assume that human beings are fundamentally thinking things."[7]This sentiment can be traced back to the seventeenth-century French philosopher René Descartes. While you may have never read or even heard of him, many of us have unknowingly adopted his definition of the essence of the human person as a "thinking thing" (or res cogitans). His view has been summed up by his now famous declaration, "I think, therefore I am." Smith writes: "Like Descartes, we view our bodies as (at best!) extraneous, temporary vehicles for trucking around our souls or 'minds,' which are where all the real action takes place. In other words, we imagine human beings as giant bobblehead dolls: with humungous heads and itty-bitty, unimportant bodies. It's the mind that we picture as 'mission control' of the human person; it's thinking that defines who we are."[8]As a result, we have a tendency to view sanctification as an information transfer process.[9]
The Bible, however, isn't so reductionistic in its description of the human person. It affirms that the life of the mind is incredibly important. Scripture urges us to take every thought captive (2 Corinthians 10:5) and to be transformed by the renewing of our minds (Romans 12:2). Following Jesus requires that we study and delight in the Word of God (Psalm 1:2). But the biblical authors focus on the whole person, including the heart. In fact, the heart is seen as "essentially the whole man, with all his attributes, physical, intellectual and psychological… the heart was conceived of as the governing center for all of these. It is the heart which makes a man, or a beast, what he is, and governs all his actions (Pr. 4:23)."[10]
We see this truth demonstrated in Paul's prayer at the beginning of the book of Philippians. In Philippians 1:9-11 we read: "9And it is my prayer that your love may abound more and more, with knowledge and all discernment, 10so that you may approve what is excellent, and so be pure and blameless for the day of Christ, 11filled with the fruit of righteousness that comes through Jesus Christ, to the glory and praise of God." Notice the progression of his prayer. He begins by praying that their love might about more and "because, in some sense, love is the condition for knowledge. It's not that I know in order to love, but rather: I love in order to know. And if we are going to discern 'what is best'—what is 'excellent,' what really matters, what is of ultimate importance—Paul tells us that the place to start is by attending to our loves."[11]So a foundational aspect of discipleship is learning how to love, and to do it rightly.
Christians in past eras seemed to understand this point quite well. For example Augustine in his Confessions wrote: "My weight is my love. Wherever I am carried, my love is carrying me."[12]The great Reformer Martin Luther once said, "Whatever your heart clings to and confides in, that is really your god."[13]And John Calvin wrote: "…in order for doctrine to be fruitful to us, it must overflow into our hearts, spread into our daily routines, and truly transform us within."[14]And later he added, "The gospel's power ought to penetrate the innermost affections of the heart, sink down into the soul, and inspire the whole man…"[15]
WHAT DO YOU WANT?
Humans are driven by our desires. "It is only by discovering a worthy object of desire that we find ourselves interested in pursuing it."[16]We are all driven by some vision of 'the good life', we all have some driving aspiration, and many of us are willing to sacrifice everything to attain it.
This point was brought home powerfully in a recent article from Deadspin by former NFL athlete Nate Jackson reacting to Andrew Luck's unexpected early retirement. He writes:
As a child, the spinning football called me to chase it… I was a full-fledged, capital-B Believer. Whatever I could do to get there, I would. And I did. And once I put on my pads, like all football players, I became a prisoner of my success; a slave to my toughness…No matter how rough things got, though, I always worked my way back, never wanting an injury to define me. Never wanting weakness to be my final act… That's what grandpa expected, that's what dad expects, and what all of your coaches and friends and neighbors expect…And so you play until they drag your lifeless body from the grass, and it's all you can do to muster a thumbs-up as they wheel you into the tunnel, knowing that's how you secure your legacy.[17]
Nate Johnson knew exactly what he wanted; he was a prisoner to success and a slave to his own toughness. More than anything, he wanted to prove that he could make it in football, and he was willing to endure intense physical punishment to do so. Johnson's example demonstrates why Jesus' question in John 1:38 ("What do you want?") is a fundamental question of discipleship, "because you are what you love."[18]So what do desires, what loves are shaping you?
[1]Kevin DeYoung, The Hole in Our Holiness(Wheaton, IL: Crossway, 2012) 24.
[2]Ibid, 31
[3]John Calvin, A Little Book on the Christian Life (Orlando, FL: Reformation Trust Publishing, 2017) 3.
[4]A discussion of our growth in godliness should always emphasize God's initiating and sustaining grace. This truth is presented in Philippians 1:6: "And I am sure of this, that he who began a good work in you will bring it to completion at the day of Jesus Christ." But we have the privilege and responsibility of working out our "own salvation with fear and trembling" (Philippians 2:12), all the while clinging to the reality that "it is God who works in [us] both to will and to work for his good pleasure" (Philippians 2:13). Here we encounter the mystery of God's sovereignty and our responsibility. This mystery is presented to us in many ways throughout the Bible. It is not ours to resolve or explain. Augustine described this tension beautifully when he wrote: "Our deeds are our own, because of the free will producing them, and they are also God's, because of his grace causing our free will to produce them" (R. Kent Hughes, Philippians: The Fellowship of the Gospel, Preaching the Word, 99).
[5]James K.A. Smith, You Are What You Love(Grand Rapid, MI: Baker Publishing Group, 2016) 1.
[6]Ibid, 2.
[7]Ibid, 3.
[8]Ibid.
[9]Ibid, 4.
[10]B.O. Banwell, "Heart", New Bible Dictionary(Downers Grove, IL: InterVarsity Press, 1996) 456.
[11]Smith, 5.
[12]Augustine, Confessions, trans. Henry Chadwick (Oxford: Oxford University Press, 1992), 13.9.10.
[13]Martin Luther, Luther's Large Catechism, (Minneapolis, MN: Luther, 1908), 44.
[14]Calvin, 12.
[15]Ibid, 12.
[16]Michael Horton, Ordinary: Sustainable Faith in a Radical, Restless World(Grand Rapids, MI: Zondervan, 2014) 29.
[17]Nate Jackson, "Football Doesn't Let You Leave," Deadspin (Deadspin, August 28, 2019), https://deadspin.com/football-doesnt-let-you-leave-1837662990.
[18]Smith, 27.