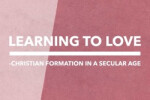 LEARNING TO LOVE | SESSION FOUR
INHABITING THE GREAT STORY: THE FORMATIVE POWER OF LITURGY
Stories form our identities and give us a sense of place. "They stir our imaginations and help us to experience love, betrayal, hatred, and compassion that might be otherwise foreign."[1]As James Smith writes, "We live into the stories we've absorbed; we become characters in the drama that has captivated us."[2]
This truth is particularly important to understand when we consider the reality that: "Liturgy tells a story."[3]Christian worship tells a story that surprises and "does something to us."[4]It calibrates us, training our loves by aiming them towards Christ and his kingdom. Liturgy cements the story of the gospel in our hearts as well as our bodies.[5]
BEING FORMED INTO THE IMAGE OF CHRIST: LIKE LEARNING TO RIDE A BIKE BACKWARDS
We need to constantly expose ourselves to the formative power of liturgy because spiritual formation in Christ requires a great deal of re-habituation. This is the case because over time, we develop a great number of disordered habits. A helpful illustration of this can be seen in a video made by the American engineer Destin Sandlin called "The Backwards Brain Bicycle."[6]
Destin Sandlin created a bicycle with an unusual feature: when you turn the handlebars left, the front wheel turns right, and vice versa. He got on the bike knowing that this was the case, but he literally could not ride it. His neural pathways and body habits had been trained for a regular bicycle. His habits had been settled. It was only with extraordinary effort (requiring eight months of practice) that he was finally able to ride the bike. "Old habits die hard."[7]
Our time in the world can be compared to riding a regular bicycle. We engage in practices that establish neural pathways and habits, forming (or malforming) us into particular types of people. Worship is like riding a backwards bicycle, retraining us to become the people that God calls us to be. This training takes time, but consistent exposure and participation has a transformative effect. James Smith writes, "…the practices of the church are… a spiritual workout, inviting us into routines that train our heart muscles, our fundamental desires that govern how we move and act in the world."[8]
So how exactly does worship shape us?
KINGDOM TRAINING: HOW WORSHIP FORMS OUR HABITS AND AIMS OUR LOVE
Historic Christian worship passed down through the centuries reflects the basic plot or narrative ark of God's work in the world, of his reconciliation of all things to himself. By engaging in worship, we are brought into this narrative. This story has four basic movements, bolstered by various transformative practices.
The first movement, or "act", is what Smith terms gathering, and it unfolds with the Call to Worship.[9]The Call to Worship reminds us that God is the initiator. Our being has been called into existence by the Creator. A service that begins with the Call to Worship, according to Smith, "has already received a word from the God who is active in worship and who wants us there. (Notice how, already, this framing of Christian worship is countercultural, displacing the priority of self and our desire to have the world available to us on our terms.) So the Call to Worship is a weekly reenactment of the primacy and sovereignty of the Creator in our lives: just as we are called into being by the God who creates, so we are called into new life by that same God, who redeems us in Christ by the power of his Spirit."[10]With the Call to Worship, God "invites us by his Word to join the worship of the ages and angels. God does not simply invite us to a party of friends, or a lecture on religion, or a concert of sacred music—he invites us into the presence of the King of the Universe before whom all creation will bow and for whom all heaven now sings."[11]
Another important practice that accompanies this act is confession. Having been called into the presence of a holy God, we become aware of our sin. This reality needs to be acknowledged for genuine worship to take place. "To be called to confession week after week is to be reminded of a crucial chapter of the gospel story… [This] counterformative aspect of the gospel… pushes back on secular liturgies of self-confidence that, all week long, are implicitly teaching you to 'believe in yourself'—false gospels of self-assertion that refuse grace. The practice of confession is a crucial discipline for reforming our loves."[12]Confession teaches us the language of repentance and faith. Tish Harrison Warren explains that the practice of confession reminds us that when we gather for worship, we don't do so as "pretty good people." She continues, "But we are new people, people marked by grace in spite of ourselves because of the work of Christ. Our communal practice of confession reminds us that failure in the Christian life is the norm. We—each and all—take part in gathered worship as unworthy people who, left on our own, deserve God's condemnation. But we are not left on our own."[13]
The second act in the drama of worship is listening. "Having been graciously called into the presence of a holy but forgiving God, we now enter into the listening chapter of worship."[14]This includes the reading and preaching of the word of God. God's word instructs and admonishes us to live lives that glorify him and serve our neighbors, but these instructions are not received as a burdensome yoke that we try to carry in order to earn our salvation, since we have already been reminded that we have been forgiven in and through Christ. Instead, God's word, including his law, can be received with joy, and even with a sense of liberation. How can the law be liberating? Because it provides the necessary restrictions that help us to live well and flourish in the world God made. As Tim Keller writes, "In many areas of life, freedom is not so much the absence of restrictions as finding the right ones, the liberating restrictions. Those that fit with the reality of our nature and the world produce greater power and scope for our abilities and a deeper joy and fulfillment."[15]
All of this culminates in the third act of worship, communing. With the celebration of the Lord's Supper we are invited to a feast with the Creator of the universe, we get to dine with the Lord. Additionally, we communion with his people, the church. "There is a social, even political, reality enacted here: there are no box seats at this table, no reservations for VIPs, no filet mignon for those who can afford it while the rest eat crumbs from their table. The Lord's Table is a leveling reality in a world of increasing inequalities, an enacted vision of 'a feast of rich food for all peoples, a banquet of aged wine' (Isa. 25:6)."[16]This meal transports us to the Heavenly City as our hearts are drawn into the very heart of God. "The Lord's Supper isn't just a way to remember something that was accomplished in the past; it is a feast that nourishes our hearts. Here is an existential meal that retrains our deepest, most human hungers."[17]
The final act is sending. "Having been invited into the very life of the Triune God—having been re-created in Christ, counseled by his Word, and nourished by the bread of life—we are then sent into the world to tend and till God's good creation and to make disciples of every nation."[18]The sending is a sort of reenactment of the original commission of humanity in the garden. When God made Adam and Eve, he declared that they were bearers of his image, and as such they had a job to do. We see this in Genesis 1:27-28 where we read: "So God created man in his own image, in the image of God he created him; male and female he created them. And God blessed them. And God said to them, 'Be fruitful and multiply and fill the earth and subdue it, and have dominion over the fish of the sea and over the birds of the heavens and over every living thing that moves on the earth.'" As those who have been remade in Christ, we are once again sent out on mission "to cultivate creation and invite others to find their humanity in this Story. Thus worship concludes with a benediction that is both a blessing and a charge to go, but to go in and with the presence of the Son, who will never leave us or forsake us—to go in peace to love and serve the Lord."[19]
So then, as the writer of Hebrews admonishes, "Let us not give up meeting together"(Hebrews 10:25). May we allow the worship of God's people to capture our imaginations, transform our hearts, and shape our loves, so that we might be conformed into the image of Christ. Lord, make us into who you'd have us be. Amen.
[1]Mike Cosper, The Stories We Tell: How TV and Movies Long for and Echo the Truth (Wheaton, IL: Crossway, 2014) 27.
[2]James K. A. Smith, Imagining the Kingdom: How Worship Works (Grand Rapids, MI: Baker Academic, 2016), 32.
[3]Bryan Chapell, Christ-Centered Worship: Letting the Gospel Shape Our Practice (Grand Rapids, MI: Baker Academic, 2017), 19.
[4]James K.A. Smith, You Are What You Love(Grand Rapid, MI: Baker Publishing Group, 201677.
[5]Rod Dreher, The Benedict Option: a Strategy for Christians in a Post-Christian Nation (New York, NY: Sentinel, an imprint of Penguin Random House LLC, 2018), 109.
[6]The Backwards Brain Bicycle, YouTube(YouTube, 2015), https://www.youtube.com/watch?v=MFzDaBzBlL0.
[7]Smith,You Are What You Love, 64.
[8]Smith, You Are What You Love, 64.
[9]Ibid, 96.
[10]Ibid, 96-97.
[11]Chapell, 160.
[12]Smith, You Are What You Love, 98.
[13]Tish Harrison Warren, Liturgy of the Ordinary: Sacred Practices in Everyday Life(Downers Grove, IL: InterVarsity Press, 2019), 57.
[14]Smith, You Are What You Love, 98.
[15]Timothy Keller, The Reason for God: Belief in an Age of Skepticism(New York, NY: Penguin, 2008) 47.
[16]Smith, You Are What You Love, 98.
[17]Ibid.
[18]Smith, You Are What You Love, 99.
[19]Ibid.